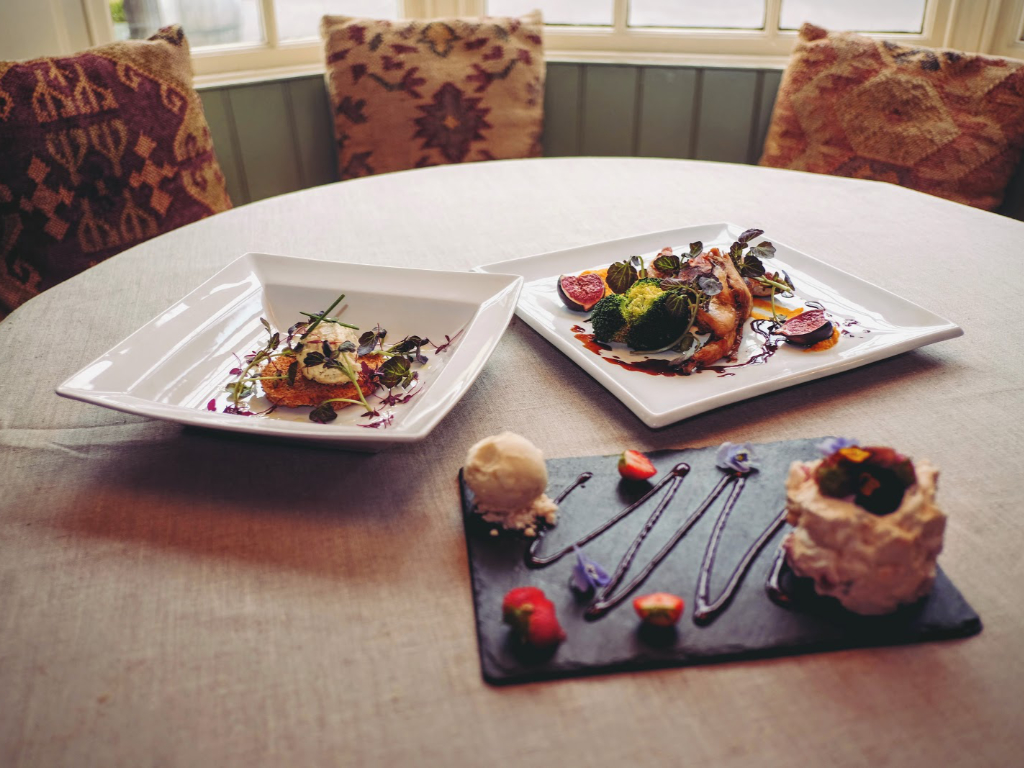 We have many exciting new dishes to try………….
Sample Main Menu
Homemade soup of the day (GF) served with a warm rustic baguette £6.50
North Atlantic salt and pepper squid with sweet chilli dipping sauce and mixed leaves £6.95
Duo of ribs & wings (GF) Pork ribs in chef's bbq sauce alongside spicy buffalo chicken wings £7.95
Grilled halloumi(V)(GF) drizzled with a sun blushed tomato balsamic glaze on mixed leaves £6.95/£11.95
****
Ploughman's (12-2:30) (GF)
Choose 2 items from the following; Cave aged cheddar Dorset blue vinny Home cooked ham Homemade sausage roll Home cooked butchers pork pie Somerset brie served with apple, celery, balsamic pickled onions, cherry tomatoes, mixed leaf salad, spiced tomato & caramelised onion chutney and warm rustic baguette £12.95
Baguettes (12-2:30)(GF)
Roast beef & horseradish £8.45
Honey roast ham and wholegrain mustard £8.45
Cave aged cheddar and chutney £7.45
Smoked salmon and lemon mayo £8.45
Chicken and bacon £8.45
All of the above are served with crisps and mixed leaves
****
Pub Classics
Whole tail Whitby Scampi served with chips, mixed leaves and tartare sauce £12.95
Honey roast ham, free range eggs and chips (GF) £10.95
Chef's homemade lasagne with salad and garlic bread £10.95
Hambro beef burger (GF) topped with smoked cheddar and bacon in a seeded bun, served with mixed leaves, chips and onion rings £12.95
Fresh Atlantic cod fillet Beer battered cod fillet, chips, salad, peas and tartare sauce £12.95
Alternatively…
Sirloin Steak (GF) cooked to your liking, served with mushroom, tomato, chips and peas £17.50
Crab bruschetta(GF) Devonshire crab with garlic butter, topped with cheddar cheese with a sun blushed tomato balsamic glaze £11.50
Pulled Shepherd's pie (GF) tender pulled lamb in a red wine jus, topped with creamy mash £11.95
Roasted vegetable and lentil casserole(VE) (GF) with sweet potato fries £11.95
****
Salads and other bites
Hambro caesar (GF) chicken, bacon, anchovies, croutons and dressing on cos lettuce £12.95
Beetroot, walnut and poached pear (VE) (GF) with cos lettuce and dressing £10.95
Mushroom, asparagus & blue vinny tart (V) Garlic mushroom duxelle topped with asparagus and Dorset blue Vinny £13.95
Vegan burger (VE) (GF) with mixed salad, tomato and chips £11.95
Please note that the dishes marked (VE) or (GF) can be made gluten free / vegan.
Please ask a staff member for more information.